At Arioneo, we do everything possible to help you make the most of your data. To do this, our team of Data Success Managers is at your side to help you fully benefit from our Equimetre solution. In this article, you'll find out a little more about these essential members of our team who support you daily.
A teacher to help you become familiar with the Equimetre solution
As soon as you acquire your sensor, the Data Success Manager is the first person you will be in contact with. This contact is personally assigned to you and will accompany you throughout your experience at Arioneo.
His or her first role is to assist you throughout the process of familiarising yourself with the Equimetre sensor and its platform. To do this, you will receive an initial email. This email will also give you access to your Equimetre platform, which has just been activated, and will determine the contact channels according to your preferences (Whatsapp group, telephone calls).
This first meeting will enable you to get to know your Data Success Manager and share your objectives. It will allow you to discover the platform and configure it according to your wishes and objectives. With over 300 parameters, the platform can be fully customised to suit your needs. After this first meeting, you're ready to record your first trainings on the platform!
After a few trainings, your Data Success Manager will get back to you to arrange a second meeting. The aim is to analyse your horses' initial data with you and, if necessary, adjust the platform to suit your needs.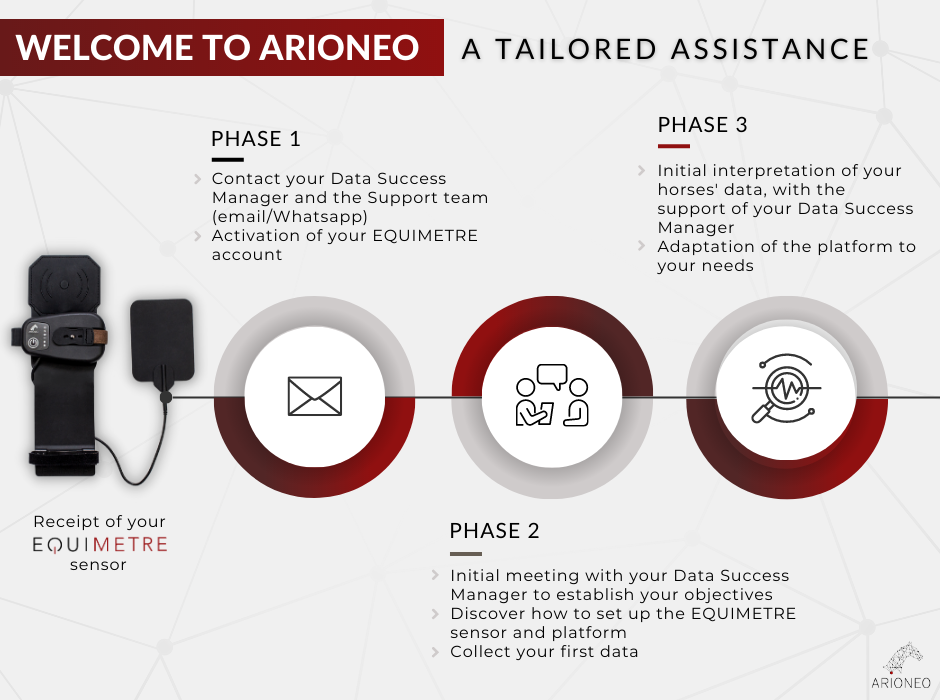 In addition to the coaching provided by your Data Success Manager, a newsletter will be sent to you every week for the first two months, to help you make the best use of your data.
An advisor during your Data Coaching sessions
You've been using your Equimetre sensor for a few months now and you're getting more and more comfortable with your horses' data.
Do you want to follow the progress of a specific horse? Do you want to confirm a particular feeling? Your Data Success Manager can help you with this. Thanks to his expertise in data analysis, he can provide you with in-depth analyses, according to a schedule determined together, based on the various parameters measured on your horses during their training.
If you have any questions, whether about using the platform or about the data, don't hesitate to contact him/her during a Data Coaching session using his/her diary. The link to it is available on all his email signatures. Don't forget to save his phone number and download Whatsapp, to make it easier to talk to him/her.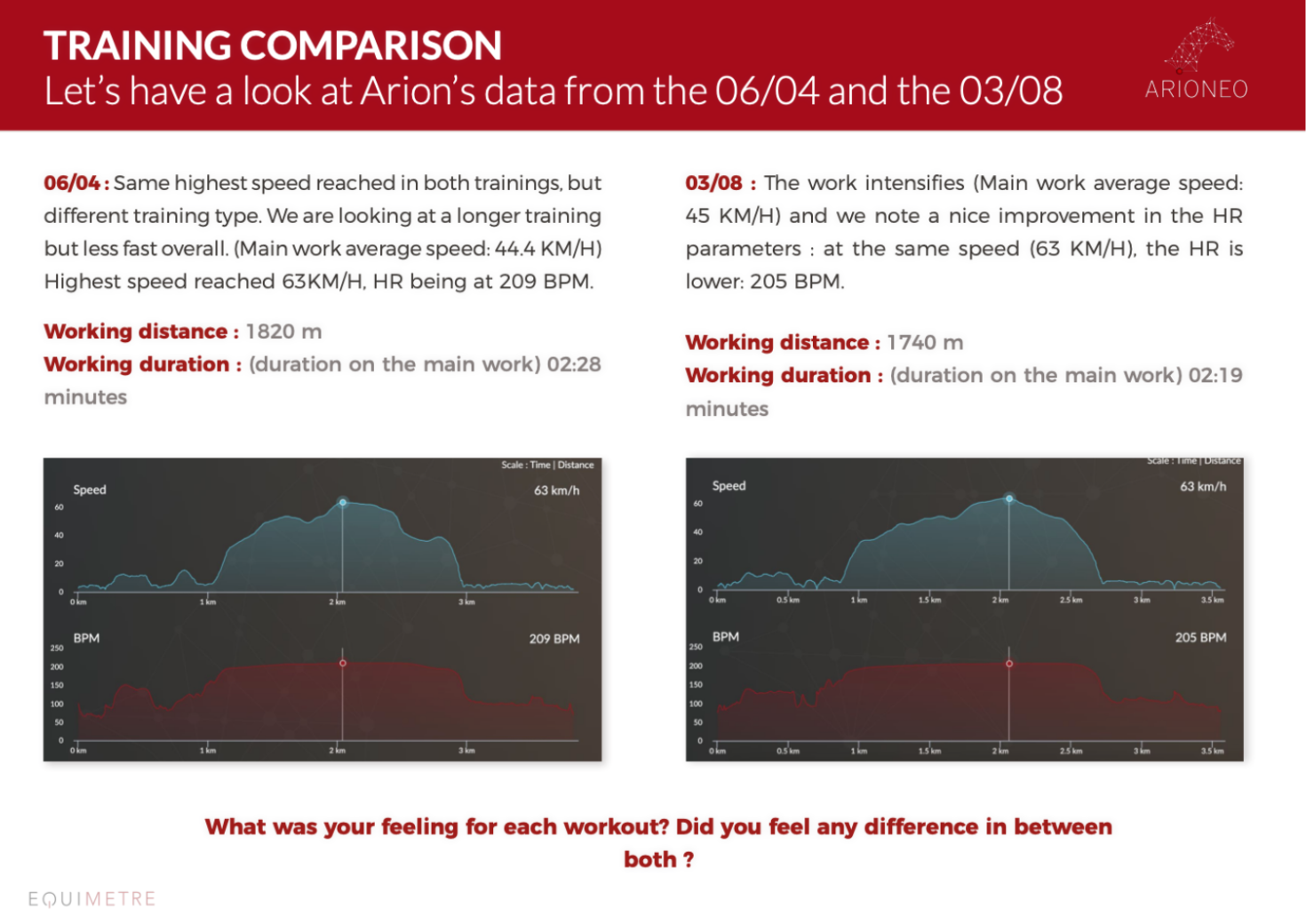 Here is an example of an analysis report sent by one of our Data Success Managers to a customer.
A link with the sales and support departments
Our sensors are the fruit of innovation and continue to grow every day. At Arioneo, we are convinced that you, our customers, have a crucial role to play in the development of our solutions. Don't hesitate to give us feedback on your use of our solutions, through your Data Success Manager, so that we can help you improve our products. 
As a small company, all our teams work together on a daily basis. It's your ideas that help produce tomorrow's innovations.
If you have a technical, IT or mechanical problem, please contact our after-sales service, which is available to answer all your questions: 
After-sales number: +33 7 81 72 74 64
Mail: help@arioneo.com

Key words: Data Success Manager, support, Equimetre