After working with several renowned racehorse trainers, Jonathan Lagenebre decided to become a private harness trainer. Discover how Equimetre allows him to improve the work of his horses by individualizing each training session.
Could you please introduce yourself, your career and your facilities?
My name is Jonathan Lagenebre, and I am a private harness trainer in Rouillac.
I started to train with Gilbert Lemiere, one of the most famous trainers in the southwest, and then I worked for Richard Denéchère and Philippe Mortagne. I began at the high level with Thierry Duvaldestin, where I stayed for three years, and then with Mr. Eric Lemaître, where I had my first Group 1 horse. Today, I have 23 horses in training, 14 of which I race.
What races are you currently preparing for?
Right now, it's the high season for harness races. We race every week. Horses have had a lot of preparation before the summer to race from Easter until September-October.
I have a horse that will run the Quinté race at Vincennes on Friday, and I have been following his preparation with Arioneo. I wasn't sure if I wanted to race him at Vincennes, but the EQUIMETRE data confirmed that I could.
How did you prepare this horse? What data allowed you to come to this conclusion?
Thanks to the sensor (EQUIMETRE), I made sure I did a regular workout: the same number of kilometers with progressive times without overtraining him.
I did aerobic sessions with two short anaerobic straights. Then I did an extensive test 15/20 days before the race. And that's when I saw that my horse was in great shape. He worked with heart rates similar to the race, and his recovery after the effort was perfect. During the last week, I went into a sharpening phase where I reduced the training volume a bit but kept the same intensity. It's Wednesday, the race is Friday, and I think he's really on point. I couldn't have had this optimal preparation without EQUIMETRE.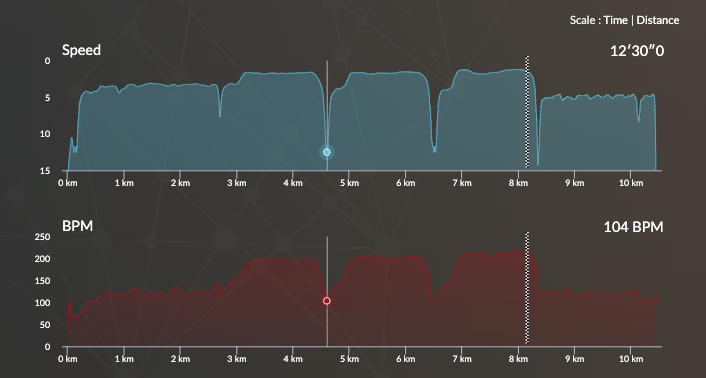 Indeed, we can see that the heart rate of this horse goes down around 100 BPM after an interval at high speed. This shows a good level of fitness. To see more examples of training data from a Standardbred, we recommend this blog.
How often and why do you use EQUIMETRE?
I have a particular interest in different training methods, statistics, and data. I equip almost all my horses with the sensor. The first few weeks I got the sensor, I could even trot until 10 pm to collect and analyze the data! 
I usually put the sensor on the horses I ride because I am the one who sets the speed. I always put it on because even during low-intensity work, it is possible to detect something. The more data you accumulate, the more confident you are of what you are doing. I've found that it's possible to see alarming signs, even during a small amount of work, such as an elevated heart rate.
I use the Arioneo sensors mainly for the well-being of my horses. I have pretty atypical tracks, and the sensor has helped me adapt the workload of my different horses and individualize their training to avoid overtraining. Finally, EQUIMETRE has allowed me to realize that horses are not good or bad, but each has their level and that we must find the ideal race for them!
Do you look at all the parameters of the chart?
I am a trainer, I like to win races, I like good horses, but above all, I like horses, and I want everything to go well. With Hélène, my advisor (Data Success Manager), we have set up a chart that I try to analyze as much as possible. If I have a bad feeling with a horse, I synchronize his work as soon as I get home, which allows me to be confident and know if everything is normal.
You were talking about your tracks being quite atypical. Were you able to identify some trends thanks to data? 
Yes, totally, and that was the goal. The sensor will not allow us to say if the horse has a great mind, but it brings us objective data where we, trainers, have a subjective view.
I've been working on these tracks for five years now, and I've always had a little trouble getting used to them. With EQUIMETRE, I realized that my left rope was more difficult than my right rope for my horses. It also allowed me to confirm my feeling: when the conditions are wrong, and the ground of my tracks is hard or rough, the heart rate of my horses is very high for very low speeds. The exercise required is of high intensity for them because of the quality of the track. During the summer, I often need to infiltrate my horses because I have difficulty getting them regular if the weather conditions are not favorable.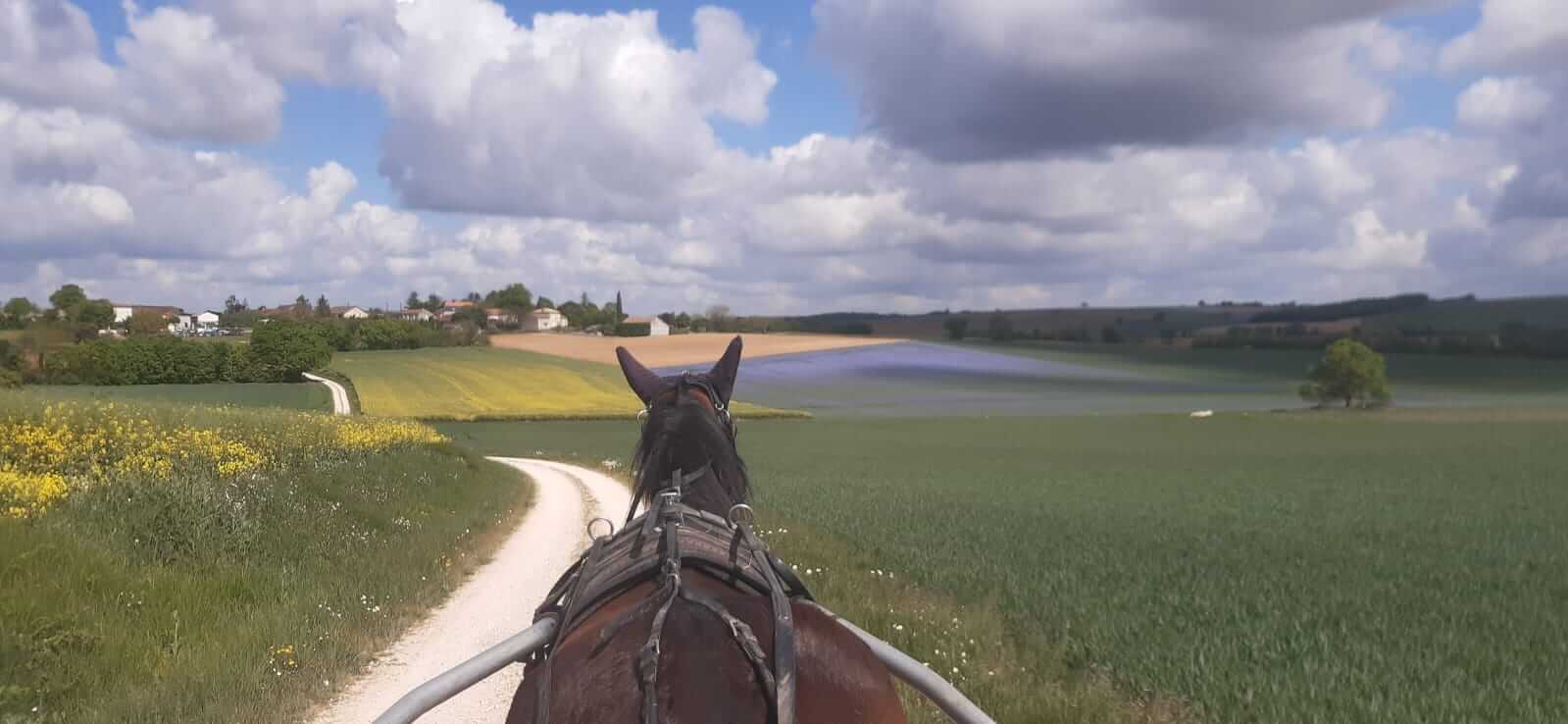 How were you able to detect this difference using the data?
I'm not going to hide it from you; it was a long process. I first tried to improve my experience by using customer service because I needed as much information as possible.
In the beginning, as soon as my horse's effort zones went a little beyond the anaerobic zone, I immediately contacted Hélène, who reassured me. The important thing is to listen to your horses. For example, a work in 1 min 40 is not considered as fast work. However, with the help of Equimetre, I was able to see that working in 1 min 40 at home was very intense, and training in 1 min 35 corresponded to a racing heart rate.
So, I adapted, and now I work my horses in 1 min 45, 1 min 50. Since this change, I no longer have horses that are crooked or that lose weight.
For a long time, I thought that my horses were under-trained, and the sensor allowed me to see that, finally, the good horses were well trained, while the lower-level horses were at the limit of over-training.
Do you share the data with your owner?
My owner has given me all his confidence to use Equimetre. His main objective is still racing, and we don't necessarily communicate about the data. However, he listens and follows the horses. For example, I had a case with a horse, Harper Marancourt, who was supposed to run in the next few days but had an abnormally high heart rate in the warm-up. I called my owner and told him it was probably best not to run. We then called a vet who diagnosed him with something.
Can you tell me more about this horse? What were you able to detect with this high heart rate?
At the very beginning of the warm-up, his heart rate was already very high (200-208). At that time, I had Equimetre live on my phone, which allowed me to see the data instantly and stop the training quickly.
The horse was sick, so we did some exams and a blood test, but nothing was conclusive. Fortunately, after a dung analysis, we could see that the horse had many worms. It allowed us to treat him.

Do you have an example of a horse on which you have seen a positive evolution thanks to the data?
Thanks to the sensor, I was able to test and analyze my different training methods. After making comparisons, I have modified or removed some ways that do not provide effective results.
I can tell you about a horse, Full du Logis, who did race preparation during his last job. His previous four workouts were 2600m and two straights, two straights 2700m and then our work just before was 2600 and 2*750m. The data showed a constant progression until the fitness training, which was 3*1200m, where all the data was really on point.
I also have another horse that I monitored and followed when he came out of recovery. His heart is still a little hard to get back to his racing rhythm, but he is doing great times. Everything should be back to normal when racing restarts, but I don't think I can do any better with him now! 
Have you already seen an improvement in race results or not yet?
I monitored one horse as soon as I received the belt, Gwenn Ha du Crozon.
With the data from the belt, I thought the horse was ready for his race, and indeed, he won the following Sunday.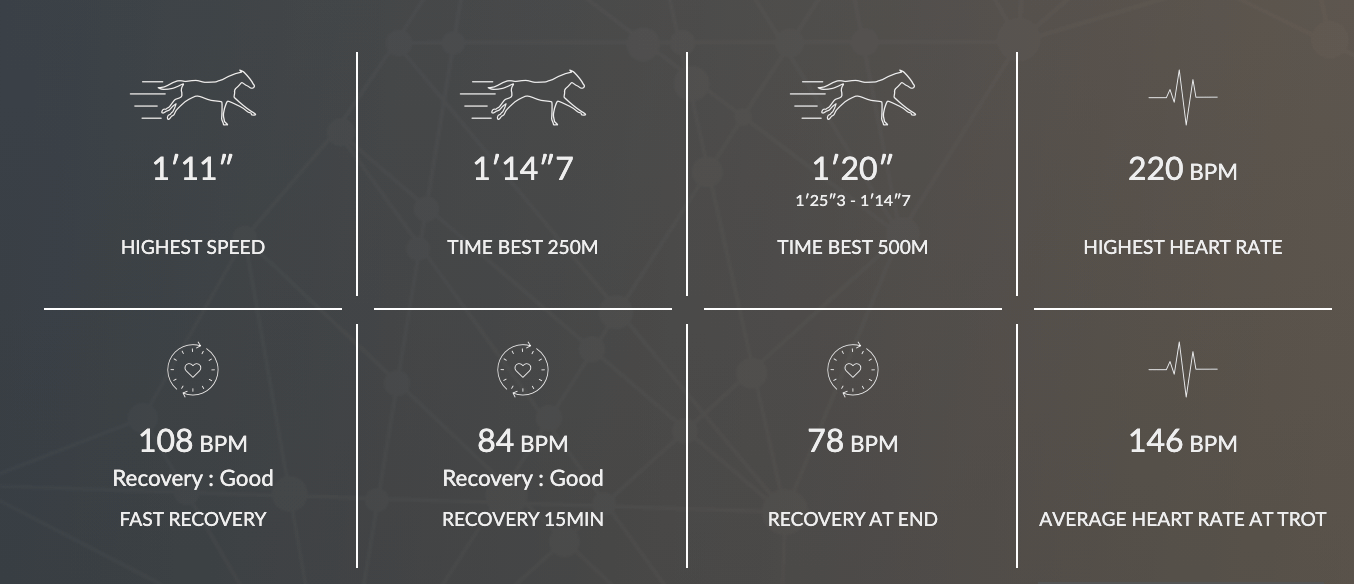 Why did you choose Equimetre?
Someone recommended it to me. I love learning about different training methods, and I was talking to a friend who was significantly improving his performance, and that's when he told me about Equimetre.
Do you have anything to add?
I think Equimetre is an excellent investment, considering the results it provides and the serenity it brings. The sensor allows me to confirm my ideas and to give a real chance to all my horses.
The more trainers use tools like Equimetre, the fewer under-performers and missed horses there will be. It is a solid support to work the horses well, but the tactics and the feeling of the trainers will always make the difference.
Keywords : Equimetre testimonial, racehorse monitoring system, harness races, performance, heart rate, horse welfare, personalized support.