The Craven sales at Tattersalls and the Osarus sales saw the first tests of a new Arioneo service: Equibreeze.
The Breeze-up sales are an essential part of the racing ecosystem and are held every spring. Selling two-year-olds ready to race, finding a future performer carefully prepared by the best consignors: the Breeze-up sales bring together buyers from all over the world in search of ready-to-run performance. 
What is special about breeze-up sales? The horses perform in public, on the same track, one after the other, before going to the auction. These comparable gallops allow buyers to evaluate the potential and performance level of each horse. By combining this analysis with the pedigree, buyers can refine their pricing strategy.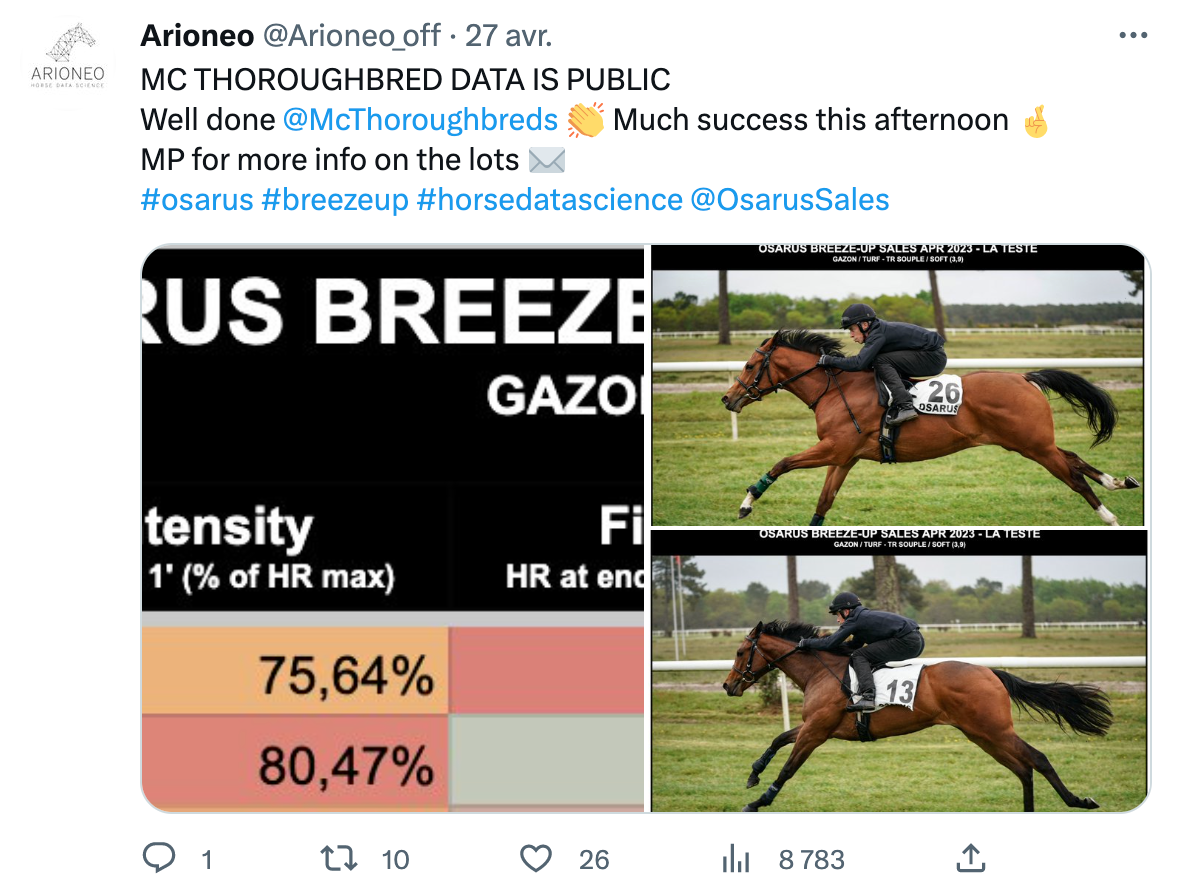 Equibreeze is a performance monitoring service for consignors and potential buyers. Horses go through their breeze equipped with an Equimetre sensor, in order to capture key data. Timing, fitness data thanks to heart rate, locomotor profile and acceleration strategy… The data is then analyzed, compiled in a synthetic table and communicated with the consent of the consignors.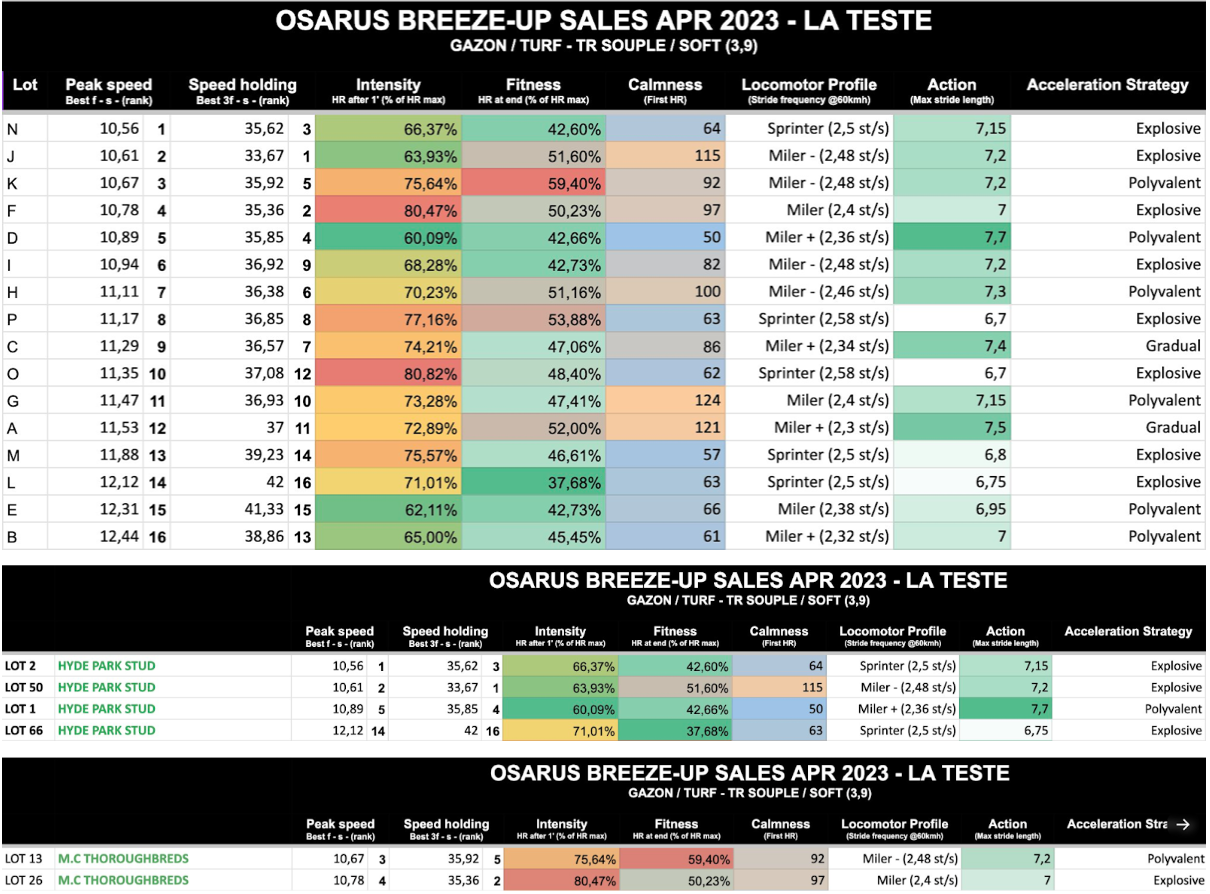 Coline Labadie, Chief Operating Officer at Arioneo, answered a few questions to tell us more about this service.
What is the advantage of Equibreeze for consignors and how can they access it?
Equibreeze data can be a great marketing lever for vendors. I see 3 major reasons why Equibreeze can be a real sales booster.
Historically, horse prices have been based on pedigree. The interest of breeze-ups is to reveal the real potential on the track and to sell performance. Some horses, which might have gone unnoticed in the catalog, have a chance to draw attention to their breeze. Sharing the performance data of these horses thus helps to highlight their performance, even for those with an ordinary catalog page! 
Moreover, as part of the sales pitch, adding reliable and objective data to enrich and support the qualities of a horse gives it extra credibility. It is a vector of confidence with potential buyers: "It's not me who says it, it's the data!"
Finally, the Equibreeze team has solid marketing experience and Arioneo's audience is dense and highly qualified. Making public the data of one's lots allows to spread consigners' advertising through Arioneo's networks (1000+ followers on Twitter, 22k+ followers on Facebook and Instagram) and draw attention to their lots.
For the Arqana Breeze-up sales, places are going fast. For the first time, 40 monitors will be available for consignors who wish to do so. If you wish to use the Equibreeze service, I invite you to contact us quickly.
Why is Equibreeze also of interest to potential buyers?
The main issues for a buyer are the construction of his selection and his pricing strategy. Data allows buyers to obtain information that was previously unknown. Buyers now have a way to confidently refine their buying strategies, with concrete figures, supporting their feelings and perceptions. I believe that this information will provide confidence and objectivity to reveal future performers to potential buyers.
What impact could Equibreeze data have on the sale prices of horses?
It is still very early to say, and experience will tell us, but I am convinced that technology and performance data will be part of the racing landscape of tomorrow, as it is already the case in other high level sports. And as with any transaction, the addition of more information or diagnosis is welcome. 
If we break down the different scenarios: in the case of a horse that would have performance data above market expectations, we can imagine that the publication of its data would be of greater interest to buyers and therefore the price of the horse would be impacted upwards. For horses that were already highly regarded for their pedigree and model, I don't think the impact would be that remarkable. On the other hand, for more ordinary horses, it can only be positive for the selection work of the industry. In the opposite case, where the data could work against a horse, it is important to remember that the data shared is varied (speed, cardio, locomotion), so it provides a nuanced picture. Speed data is not very impressive? Maybe the fitness data is interesting. Perhaps the locomotor profile indicates longer distance abilities, which would explain why the young horse still needs work or why a 2 furlong breeze does not allow him to reveal his full speed potential. 
Of course, we also know that an isolated breeze performance is not always representative of the horse's overall performance, let alone its future potential. Data will never replace the human eye, experience, pedigree analysis, they only allow to refine one's judgment. Sharing performance data will not allow the buyer to make a black or white opinion, just to add a little more color to the picture!
A final word?
The Equibreeze service is still a project that we want to refine as we gain experience in the field. The selected data, the communication channels, the organization models are being fine-tuned with each sale. We are eager for feedback and opinions, both positive and negative, and we feed off of everyone's opinions. More and more consignors are choosing to trust us, and the feedback is very encouraging and constructive, both from the consignors and the buyers. 
In training, performance data is becoming essential, and I think that the industry will follow the same path when buying horses.