Equimetre is a sensor dedicated to health and performance management. Thanks to heart rate data, GPS data (speed, acceleration, distance) and locomotion data, this device gives you the keys to support your gut feeling and to reinforce your expertise in order to transform each of your decisions into success. Why should you choose Equimetre? What are the advantages compared to other devices on the market?
1. Accuracy – Collect data you can trust
Equimetre is a scientifically validated tool. Indeed, it is the only monitoring device with internationally patented electrodes capable of collecting and storing the ECG of each horse monitored during each training session and at full speed with the same precision as at rest. Therefore, choosing Equimetre means choosing to have precise and detailed indicators on the physical condition and recovery of your horses and also choosing to be able to detect early signs of pathologies.
2. Optimisation – Bring each horse to his maximum potential 
Moreover, Equimetre provides you with the necessary data to individualize the training of your horses and thus exploit the maximum potential of each of them. Thanks to our sensor, you have more information to help you in your decision-making and to support your feelings on the field.
Example – Adapting the race distance to win
Arionea, a 4yo filly, showed good results over 1100m in her 2 year old season. However, she did not progress over this distance the following season despite promising fitness abilities. To understand this situation, Arionea's trainer decided to analyze the mare's data.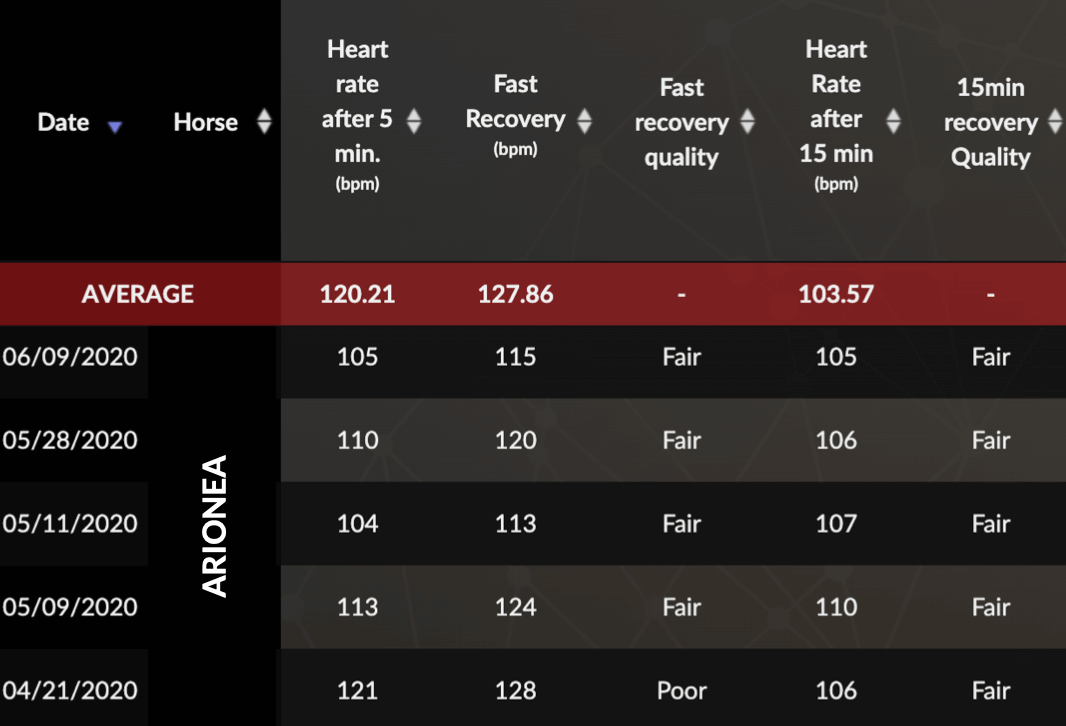 Data from the Equimetre platform
However, he found nothing abnormal in the mare's cardiac data. In fact, the data presented above show a good fitness: the recovery capacity is qualified as normal immediately after the effort, as well as 15 minutes after. Following this observation, the trainer decided to look at another type of data: locomotion.
The results will show that according to her acceleration strategy, Arionea would be more comfortable over a longer distance. Want to know more? All the analysis is detailed in our case study which you can find here.

3. Easy of use – Easily integrate Equimetre into your training routine
Thirdly, Equimetre integrates seamlessly into your training routine. The device is quick and easy to set up (30 seconds) with many automations including an RFID reader (to automatically link the training to the horse), an easy to navigate platform with automatic tabs to review your data and compare it effortlessly.
4. Support – Contact your Data Success Manager to help you interpret the data
An account representative is dedicated to you. They will help you interpret the data and/or report on your trainings for you. Benefit from their broad and international experience with data to assist you thanks to one on one direct contact and personalized data coaching.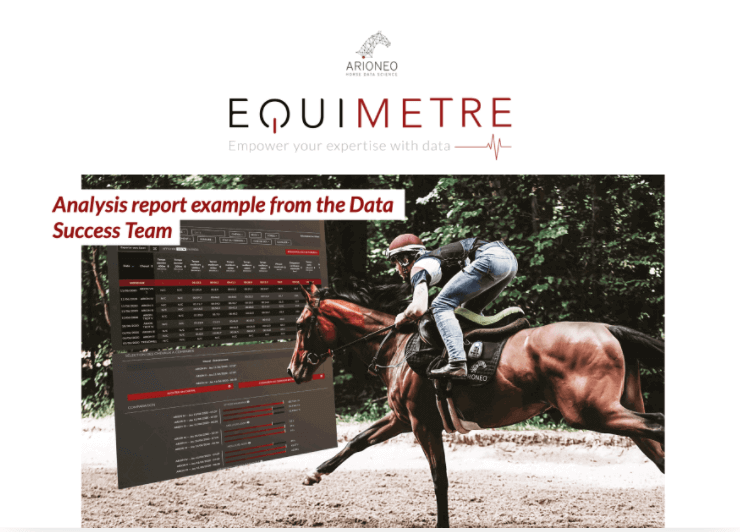 An example of an anonymized report that allows you to view different types of analysis realized by our Data Success Managers for their clients.
5. Confidentiality – Collect confidential data with peace of mind
Your privacy is our priority. Confidentiality clauses are signed by contract with you and our team. Access to data is restricted and clauses can be adapted to your taste. To know more about it, click here.
6. Savings – Reduce the risk of injury and optimize your winning rates
By monitoring closely your horses, you are able to optimize, compare and even individualize training (particularly interesting on your young/new horses), follow evolution, make better entries, reduce vet costs and potentially get more business!
Example – Detect a heart failure thanks to data
Arion, a 4 yo gelding who has never raced, arrives in a new stable. He quickly showed signs of premature fatigue in training. The trainer decided to equip his horse with Equimetre in order to track his training and obtain real information about his physiological functioning.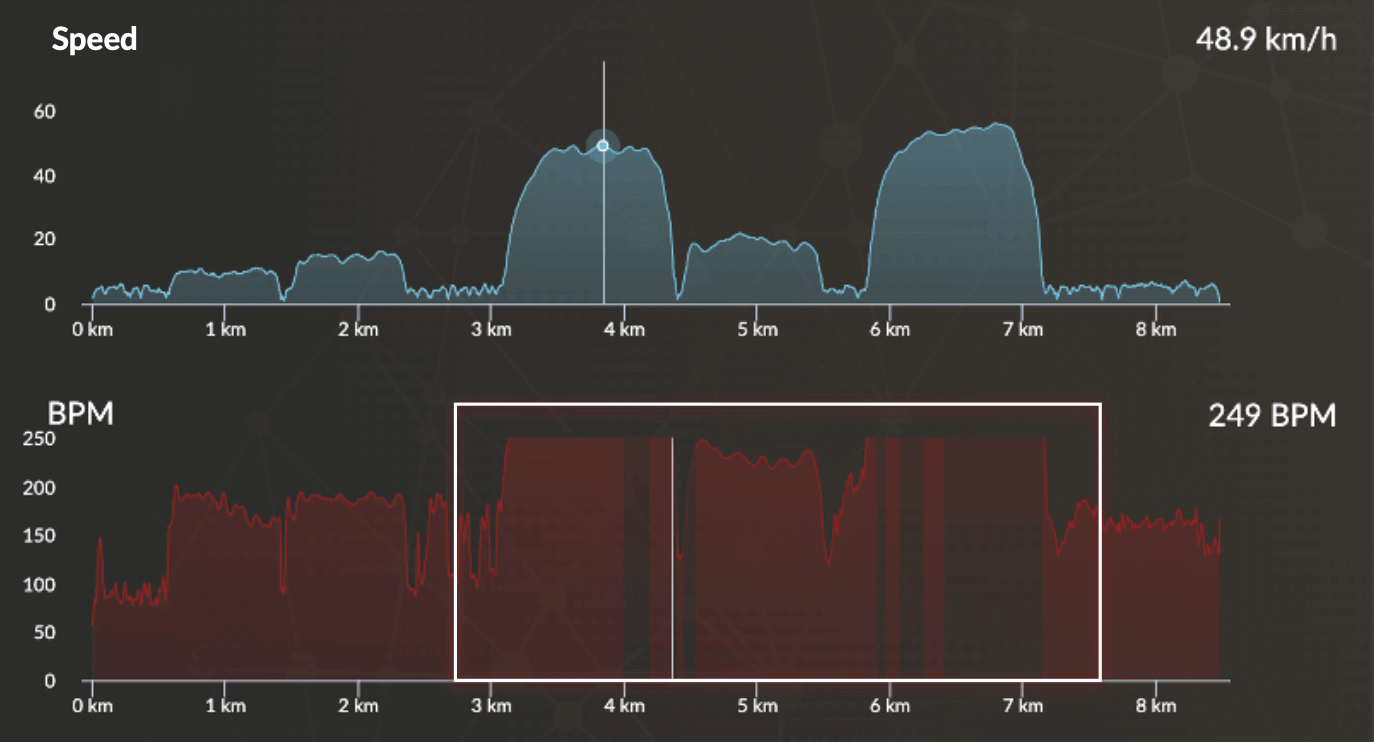 Data from the Equimetre platform
The horse monitored during a canter showed a very high heart rate during exercise, exceeding 250 BPM. What is the reason for this heart rate? What impact did it have on Arion's career? The answer in this case study.

7. Marketing – Improve communication with your team
Thanks to a tangible tool to support and reinforce the quality of your training, you have a real added value for the owners. Indeed, Equimetre facilitates communication and provides tangible data to the owners who trust you.
Owners are not necessarily near the training center, they can't see their horses every week. With Equimetre, they can use the data from the sensor, everything is sent to their email address. They can follow their horse's trainings and also ask questions based on the results. It allows them to be involved in the training, they are really part of the team.
Erwan Grall
Jump trainer and Equimetre user since 2020

Keywords: Equimetre, monitoring, racehorses, accuracy, optimization, ease of use, support, confidentiality, marketing, savings