We had the chance to talk to Roxane and Laurent, owners and riders at the Écurie des Carrés, which offers breaking-in, pre-training and sales preparation. They share with us their experience with Equimetre, and how they integrate it into their daily work with horses.
Why have they decided to collect data? How do they use Equimetre? What results do they get? Find out all the answers in this interview!
Can you introduce yourself?
We are former show jumping riders. We joined the Aga Khan Stables in 2005 for 13 years, during which time we were in charge of breaking-in in Normandy. We then took a break to work on our project: finding our own structure. And in 2021, we created the écurie des carrés, where we still are!
What motivated you to create a pre-training stable?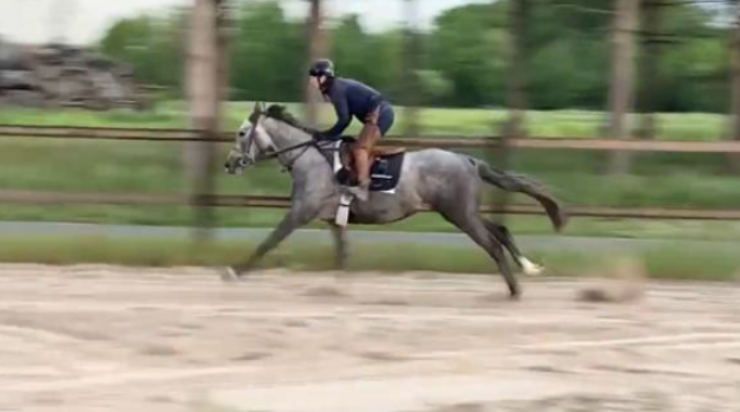 Passion, because that's what we love to do. After thirteen years of breaking in horses for the Aga Khan Stables, where we were lucky enough to come across all the finest origins, we wanted to create our own structure.
Today, we have a stable of our size, which allows us to really spend time with the horses and make them feel comfortable. We can be really close to them, at work, from their breaking-in to their departure for training or on holiday.
What are the main challenges you face when pre-training racehorses?
In our pre-training structure, we have foals that we have broken in and horses which needed to be rested on the road after resting or which had health problems, tendonitis, etc. Pre-training takes place over 5-6 weeks. The goal is to get them in condition to start training again. For us, the challenge is to put them in the best possible condition so that they are ready to go out and train, within a timeframe given to us either by the owner or the trainer. We don't necessarily decide how long a horse stays in our stables.
What issues led you to invest in a solution like Equimetre?
To continue to improve the sensations we could have had. The advantage of Equimetre is that there are real figures that you can't get otherwise, even if you have a good feeling. For example, when it comes to cardio, the figures speak for themselves: you can really see how well your horse is recovering. This allows us to confirm our feelings, to have figures and to adapt the training of each horse accordingly.
How do you use Equimetre in your daily life? Which parameters do you look at the most?
The parameter we look at the most is cardio. It's really interesting to see the increase in power and the improvement in recovery over the weeks. There's also the stride length data which is interesting, but for us cardio remains essential to ensure that the horse never works in the red. This allows us to work harder and harder, but progressively, without the horse suffering. The goal is for him to be in good condition and in good morale. We also work with speed, trying to increase it gradually from week to week.
Equimetre also allows us to communicate with owners by sending them reports on their horses. This allows them to see how the horses are developing, particularly in terms of physical condition. The same goes for the trainer. When we send the horse off for training, the data can help us to know whether or not the horse is ready for canter.
Could you name one or more advantages that Equimetre has brought to your working methods?
At the stables, we have two different tracks, a small one and a large one with a gradient. Equimetre helps us to monitor the improvement of the horses, by helping us to judge them when we take them out on the big track.
We can see if they're already working hard – because the gradient requires a lot of effort for foals – or see if it's possible to increase the intensity as we go along, using the speed and cardio data. You can immediately see the cardio data and increase the intensity according to how you feel about the horse. It's a really good way of getting them up to speed.
Have you ever encountered any difficulties?
For now, it's been nothing but positive! It's a tool that's really suited to us as pre-trainers. It helps us to confirm our visual analysis and to make sure that a horse is ready when we send him out for training.
What do owners think about using such technology?
The feedback from the owners has been more than positive, as they really appreciate the fact that we're keeping a close eye on their horses! And in terms of communication and sales, it's great for us. The owners realise that we can confirm our feelings objectively, quantify the improvement in their work, and they talk about it around them. It's really great and the owners are delighted! One trainer saw that we were using the tool. We sent him some reports and he was really interested.
Keys words : Roxane, Laurent, data, Equimetre, testimonial, écurie des carrés, equine technology, heart rate monitor