James Peters, racehorses trainer in Singapore, gave us an interview to understand how EQUIMETRE has settled into his daily life as a trainer. How does he use the product? Why is it important to him? What role does data play in his decision making?
Could you please present your work and your career?
I moved to Singapore ten years ago as an assistant trainer to a big trainer called Michael Freedman, one of the Freedman brothers. I was assistant trainer to him for 6 years and when he left Singapore, I took over the training license and I've now had my training license for over 4 years. I've trained 145 winners so far and I've had a group II and group III winner. Just need to get the group I winner now!
Why did you choose EQUIMETRE?
A couple of trainers had similar kind of products and I just thought that any extra data that you can find, or use is a benefit. I started looking around for the different kinds you could find, and I came across Equimetre. It looked to be very modern and new. Lots of the older models didn't have the latest technology, features, indicators. I liked what I saw in your promotional video and I think that what you provide for us is very good value for money.
"Before I came across the Australian way of training, I've never had a gallop timed, you would do everything based on feelings and some trainers still train in the same old way as in 1970."
What are the main advantages of working with EQUIMETRE and the Arioneo team?
The team has been very easy to deal with. Any support we've needed has been brought very quickly. When I first acquired the product, we had a video call and the team just got back to me on any questions I had in a very efficient and understandable way.
The platform and the app are very easy to use. All the information is easily downloaded and right into your phone or laptop. Within minutes, you can see the data of the horse coming back from work. It is the latest technology available on the market. And also, the product in itself is very easy to use. It can be switched from horse to horse within minutes. It is very straightforward. I would say that the main advantage is that it is very easy to use.
Can you give us a practical example of what data brought to your way of working?
First, it made me realize that horses actually do more work than I thought they did. I usually work them over 4 furlongs (800m) and quicken up during the last two furlongs. But the data showed that the horses were still galloping hard after they passed the winning post. They were still doing 12sec a furlong after the finish line where I thought they had finished their work. So, it helped change a few things there.
Also, I have a horse called Fast and Fearless. We tried him up over 1600m / 1400m. We were trying to get him to stay. But just by looking at his data (stride length and stride frequency) we jumped him back to 6 furlongs races and he's won his last few starts.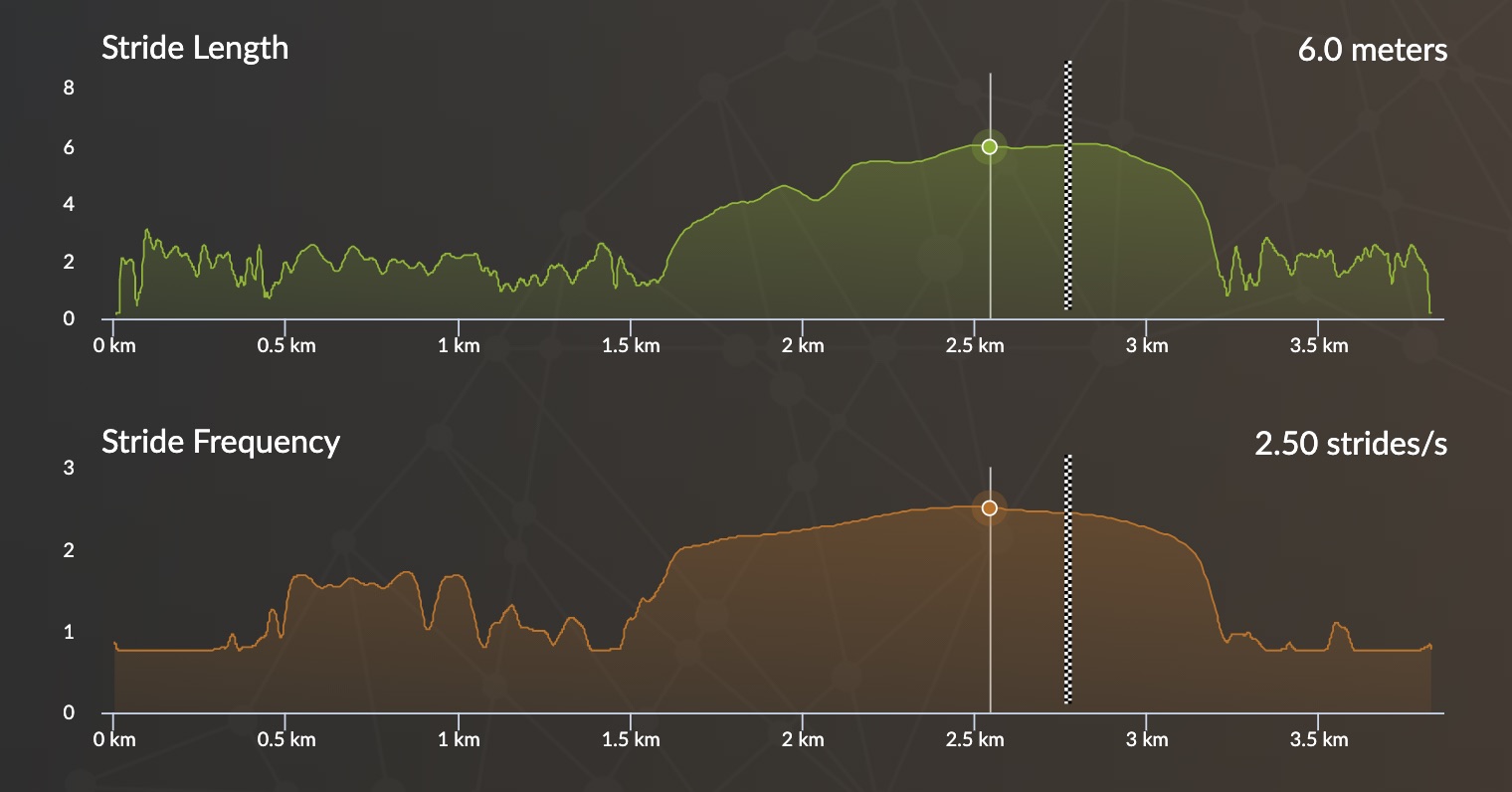 Sprinter – Short distances
In order to reach a high speed quickly, a high stride frequency can be an advantage. Indeed, a high stride frequency makes it possible to reach maximum speed faster than a long but short-paced stride. On the other hand, high stride frequency will not be sustainable as long as a large and less frequent stride. Improving the quality of recovery and fitness of the horse will ensure that the horse can hold this high pace longer than other horses and thus win the sprint.
How do you see the future of racehorse training?
Racehorse trainers are sometimes trapped in the past and they do things in very old fashion ways especially in France and in England. They still train in the same way they trained fifty years ago.
I think that in Australia and other parts of the world trainers are a little bit openminded to new ways of working. And I think the technology is going to play a far more important part. Before I came across the Australian way of training, I've never had a gallop timed, you would do everything based on feelings and some trainers still train in the same old way as in 1970. They haven't changed the way they do things at home. I think that modern training will definitely evolve with technology because the more information you get the better. There is so much science that goes into nutrition or everywhere else around the horses' performance. So many things changed since I've started working in the industry 15 years ago. I think that what Arioneo is doing will become more and more invaluable. I'm not sure where it is going to lead to, but I am definitely sure that technologies like Equimetre will help the younger generation willing to use it. Equimetre is definitely something that I will continue to use.
Key words : racehorse trainer, horserace connected monitor, stride frequency, stride length, Australian racehorse, racehorse Singapore