In this interview, we invite you to discover how Erwan Grall uses EQUIMETRE on a daily basis to monitor his training horses. EQUIMETRE user since 2020, he presents you the data he analyses and how EQUIMETRE contributes to strengthening the relationship he has with his owners.
Could you introduce yourself and tell us about your career and your arrival at Maisons-Laffitte?
We have been settled for about a year and a half [2019] and we train jumping horses. Our aim is to win the best races at Auteuil, the most prestigious racecourse in the discipline. In winter we stay in Pau to prepare for the Auteuil races. We mainly work on the stamina and jumping quality of our horses. There is a specific training for each type of jump, whether it is over hurdle races or steeplechase. In hurdle races, the obstacle remains the same throughout the race, whereas in steeplechase the obstacles change and are bigger. This requires more daily training and rehearsal.
What was the determining factor that led you to collect data ?
New technologies are a real asset, providing us with data that we did not have until then. Before, we had to rely solely on the human eye and judgment. Thanks to the EQUIMETRE sensor, we now have very important data helping us in our training.  Heart rate, maximum speed, stride length, stride frequency and recovery are interesting data to objectivise.
As a jumping horse trainer, the horse's recovery after an effort is very important, especially as we were not able to measure it before. It was possible to evaluate it approximately, but the measurements were not reliable. With the EQUIMETRE sensor, we can now determine precisely whether a horse is ready to race or not.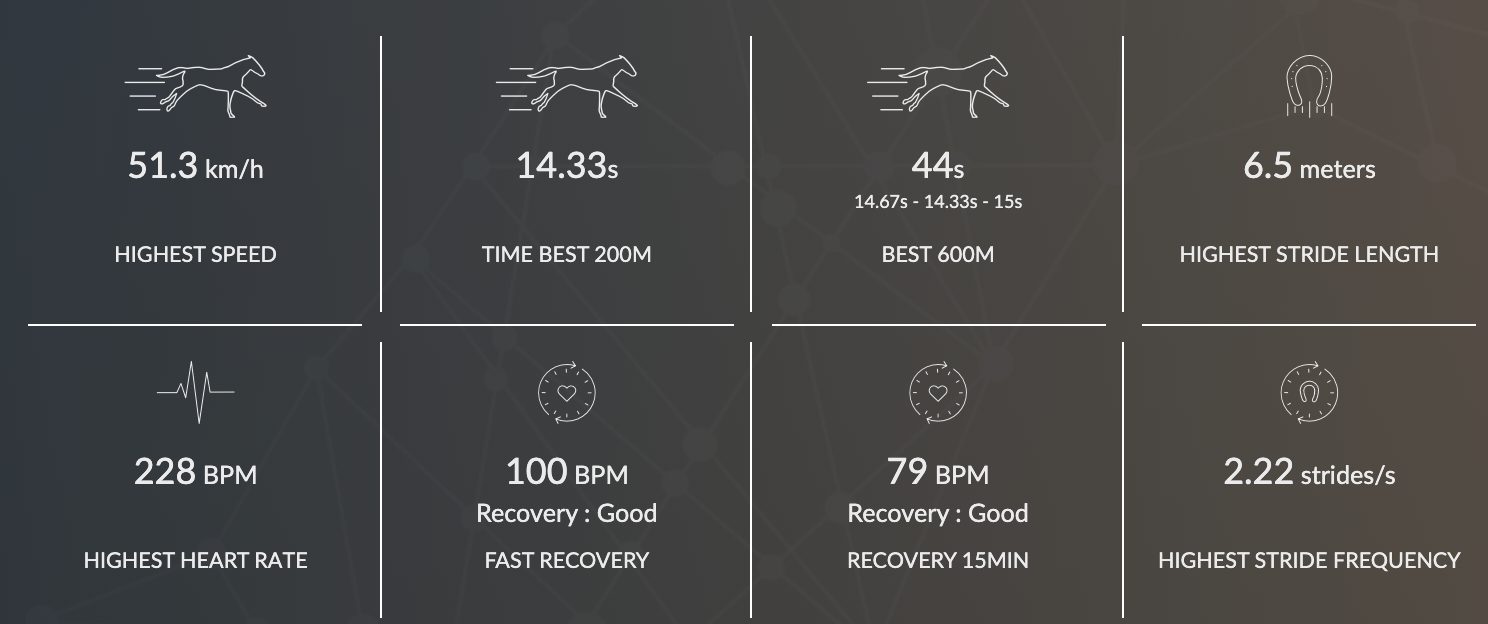 Key parameters on the EQUIMETRE Platform
On a daily basis, when do you use the sensor? On a typical session, what do you look at first?
We try to use it on similar jobs to collect a large database with reliable references. We gather data during high intensity workouts, for example, fifteen days before a race. It is then very interesting to check if the horse has a good recovery or if, on the contrary, he takes a long time to recover after his work. If the recovery is not optimal, the horse still lacks stamina which means we have to work him longer and delay the next race. Fitness and recovery time are key factors for us to determine whether the horse is fit to race or not.
Is there anything special about data collection as race days approach?
Yes there is, the advantage of the EQUIMETRE database is that all the work of the same horse is recorded. This provides an interesting comparison. If he has already raced, we can evaluate the horse's progression according to his performances. This allows us to identify the fitness level and judge when the horse is at his optimum level. Thus, before a major event we will determine if the horse's data is in line with these standards, and this will help us decide whether or not to race him.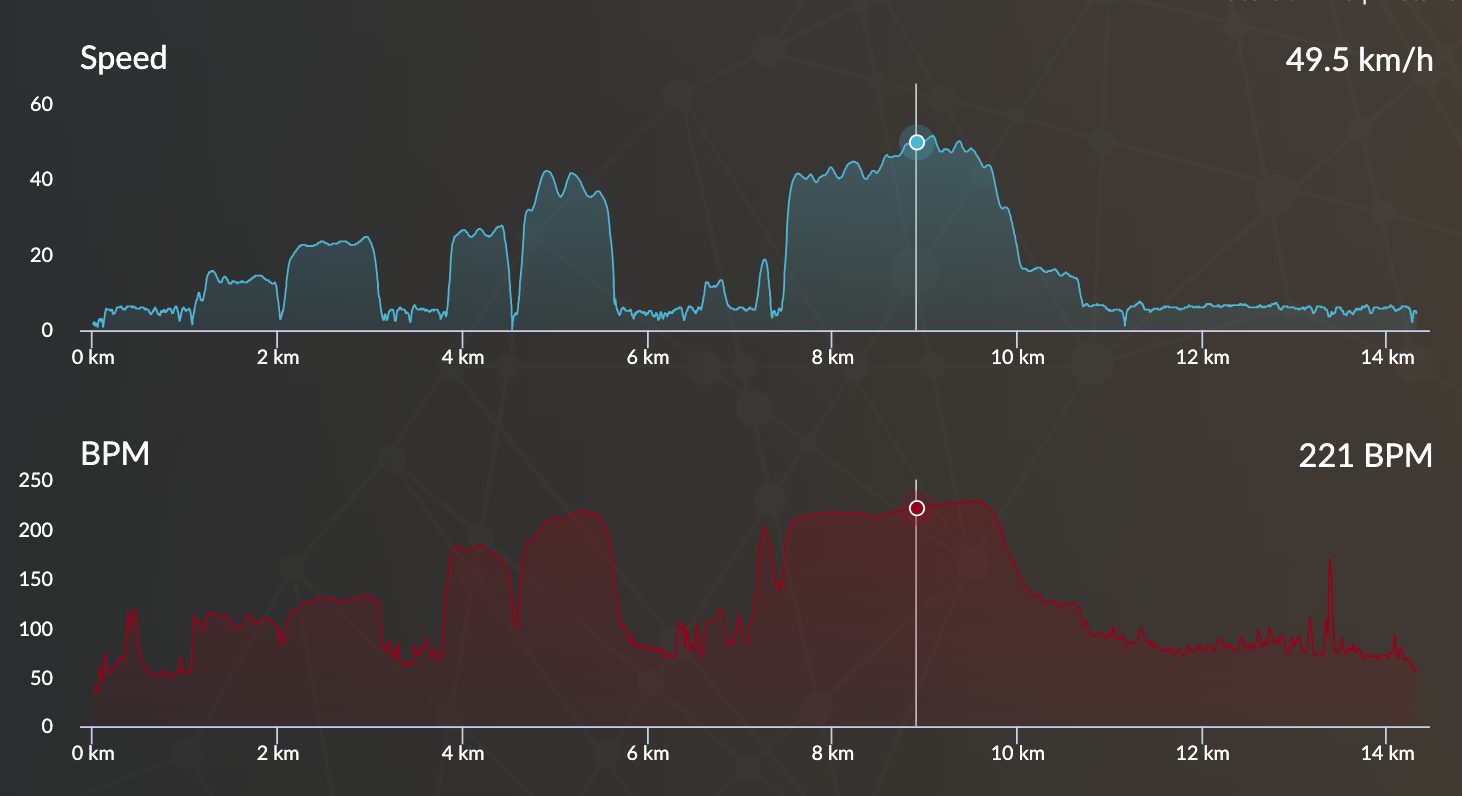 Is this data a tool for communication with your owners?
Yes, of course! This is one of the main advantages. The owners are more and more involved in the training of their horses. They do not have the opportunity to come and watch the training every week. For them, it is quite interesting to be able to follow the evolution of their horse with the help of videos and the data collected that we can send by email thanks to the PDF report feature available on the platform. They can then follow their horse's work and ask questions based on the results. This involves them in the training: they are aware of what is going with their racehorse.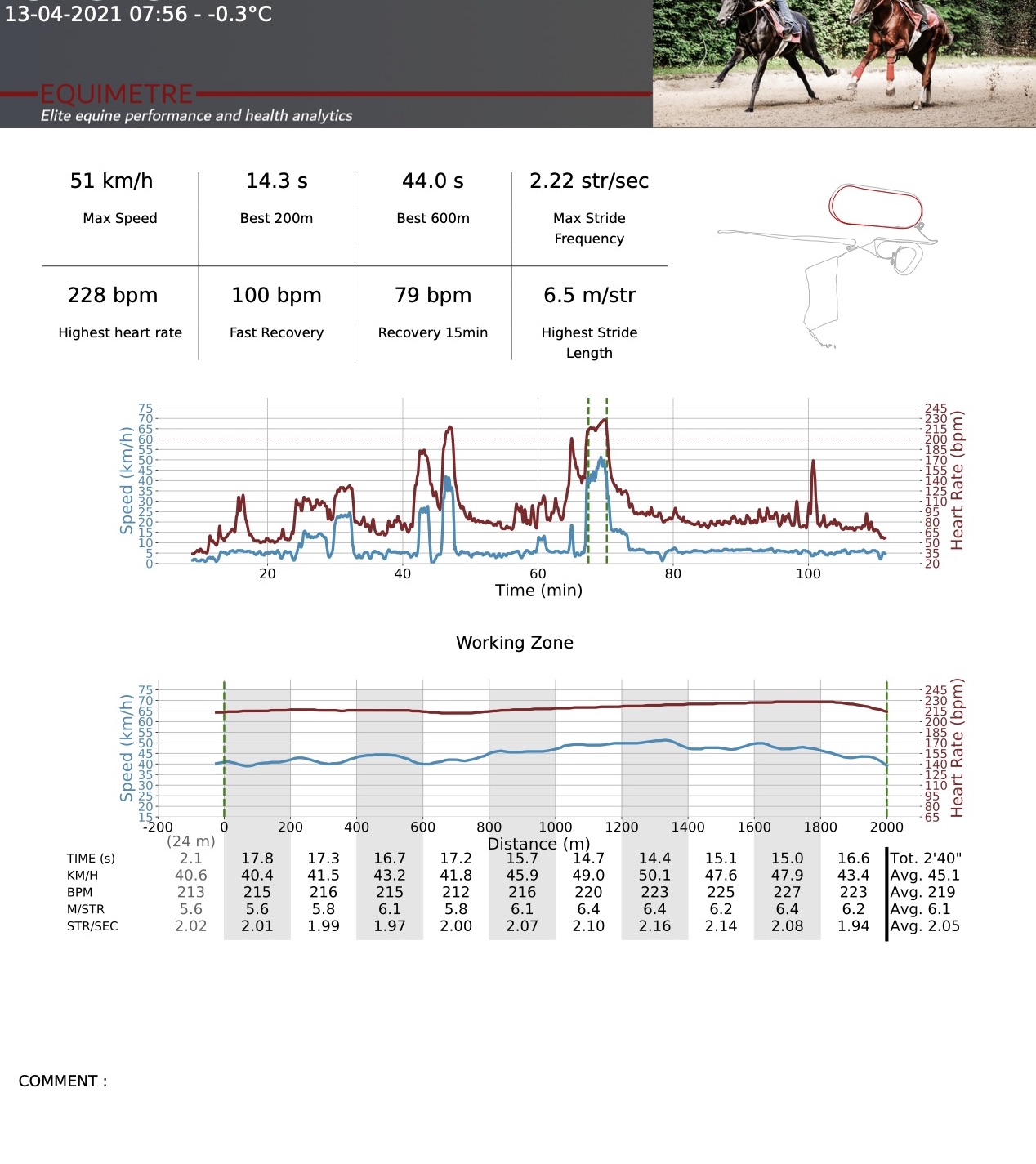 How did they react when you started sharing the data, were they surprised?
It was a real surprise because they were not used to working with such tools and having such direct exchanges about training. Thus, it is very interesting for them, and they want more. Everyone gets involved and it is advantageous as it creates a real dialogue. The trainer is not the only decision maker, the owner can ask questions and be interested in the technical aspects of the training. For example, if the cardio is not good enough, he can ask what can be improved. The aim is to exchange information in order to optimise the performance of the horse.
To conclude, how do you see the future of training and of the industry? How will we train in 2031?
I think that in the future all horses will be equipped with a connected solution. Today, not all of them are, but I think that in the future all the horses will work with a sensor, so that we can follow the training in its whole. It will be relatively simple as products will continue to modernise and will be more accessible. I think that the sensors will become smaller and more powerful. We will then be able to follow each horse in a very simple way. This will be a real advantage for training.