FREE WHITE PAPER
7 REASONS TO MONITOR YOUR RACEHORSES' TRAINING
A complete guide to introduce you to all the benefits of quantifying your horse's training through data.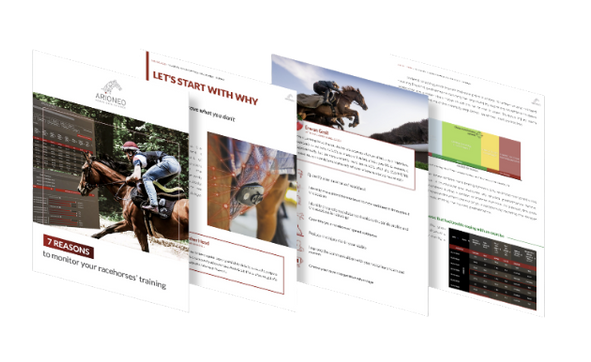 In this white paper you will discover how data can enable you to: 
Quantify the abilities of each horses in order to plan optimal training.


Prevent the risk of inujury and improve medical monitoring

by analysing performance measures in real time and throughout the season. 
Create a competitive advantage

en by strengthening your feeling with objective data. 
«I do believe it gives us an advantage. Every horse that does any fast work or slow work, trials etc., all has what we call a tracker on and giving us data for it. That gives you the confidence to go to a mile first up. He's (Hitotsu) a lightly framed horse, a run at 1400m to see if he's fit enough would just be for the detriment of him and his preparation. The data allows us to target these races, not waste runs on horses that might not need them or want them.»
Why do I have to provide the requested information?
ARIONEO is committed to protecting and respecting your privacy. The information requested will not be disclosed or sold to any thir party. It is requested in order to provide relevant content, to send you information that may interest you and to learn about our market. You can unsubscribe from these communications at any time by clicking the link provided in our emails. At any time, you can ask to edit, or delete your data by reaching out to contact@arioneo.com.
Is this white paper really free?
Yes, this white paper is 100% free. The Arioneo team is committed to providing relevant, useful and accessible content. 
7 REASONS TO MONITOR YOUR RACEHORSES' TRAINING