Free white paper 
STRIDE DATA ANALYSIS: UNDERSTAND YOUR RACEHORSES' ACCELERATION STRATEGIES 
Find out how to detect injuries, how to identify your horses' locomotor profile and how to detect future performers thanks to technology.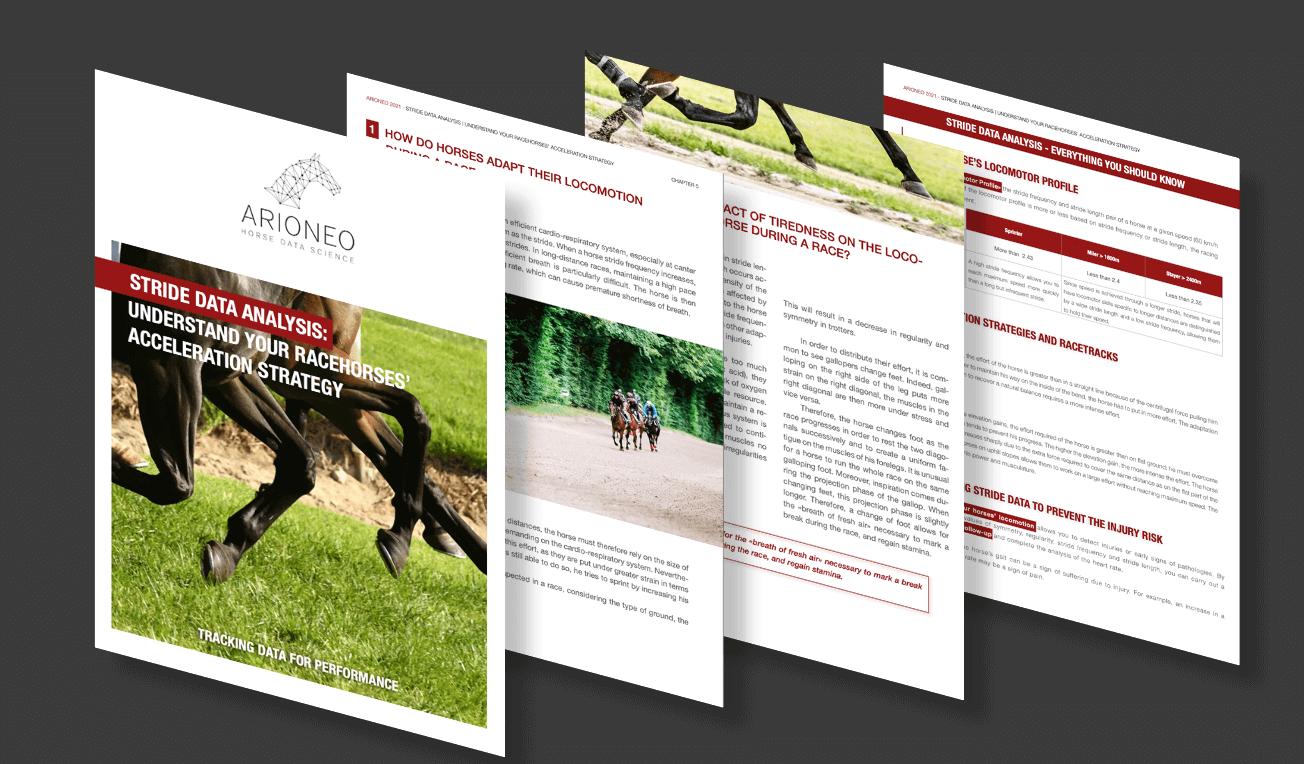 RACEHORSES STRIDE DATA ANALYSIS FOR PERFORMANCE
In this white paper you will discover how to:
Identify your racehorses' locomotor profile and preferences

to maximise your chances of winning
Detect injuries

by analysing the data historic of stride length, stride frequency, regularity and symmetry of your racehorses.
Ojectivise your racehorses' acceleration strategies based on the data collected
Why do I have to provide the requested information?
ARIONEO is committed to protecting and respecting your privacy. The information requested will not be disclosed or sold to any thir party. It is requested in order to provide relevant content, to send you information that may interest you and to learn about our market. You can unsubscribe from these communications at any time by clicking the link provided in our emails. At any time, you can ask to edit, or delete your data by reaching out to contact@arioneo.com.
Is this white paper really free?
Yes, this white paper is 100% free. The Arioneo team is committed to providing relevant, useful and accessible content. 
Tracking the speed of your horses
The time has come !
The racing industry has undergone many changes in the recent years and many institutions have acquired tracking tools. The racing industry, thanks to the many investments received since its creation, has completely transformed itself and has become ultra-competitive. Victory can narrowly escape and nothing should be left to chance.
Reinforcing your expert eye and your feeling with objective data is a major asset. As explained in this white paper, racing strategies are the key to victory and the stride analysis in racing and training is a tremendous support. By analyzing this data, you will be able to objectively assess your horses' acceleration strategies: do they accelerate with their stride length or stride frequency first? What is their locomotor profile? 
This white paper summarizes all the information necessary to analyze the locomotion: you will have access to reference tables, graphs and their explanations as well as detailed examples.  You will discover the importance of acquiring this data to help you make a winning decision.
Stride data analysis: understand your racehorses' acceleration strategies