Conceived to give you reference data, the demo horses of Equimetre.com are a concrete comparison tool meant to be used.
Here are the keys to get the most value from its use.
* Please note that all horses are anonymous*
GROUP 1 WINNER – THE REFERENCE OF THE GROUP 1 WINNER
Group 1 winner is a Group 1 winning horse aimed to give you the references of a very good flat races horse. Let's take a closer look at the data. G1W's trainings have several indicators of excellence :
A remarkable locomotor profile

: his stride length/stride rhythm combination is extraordinary. To learn more about its locomotive profile, you can read this article.
The speed

: his best 200m is under 11 seconds, and his maximum speed is 66.6 km/h, allows comparison with racing speeds and the certainty that the horse has speed skills. To learn more about speed monitoring, you can read this article.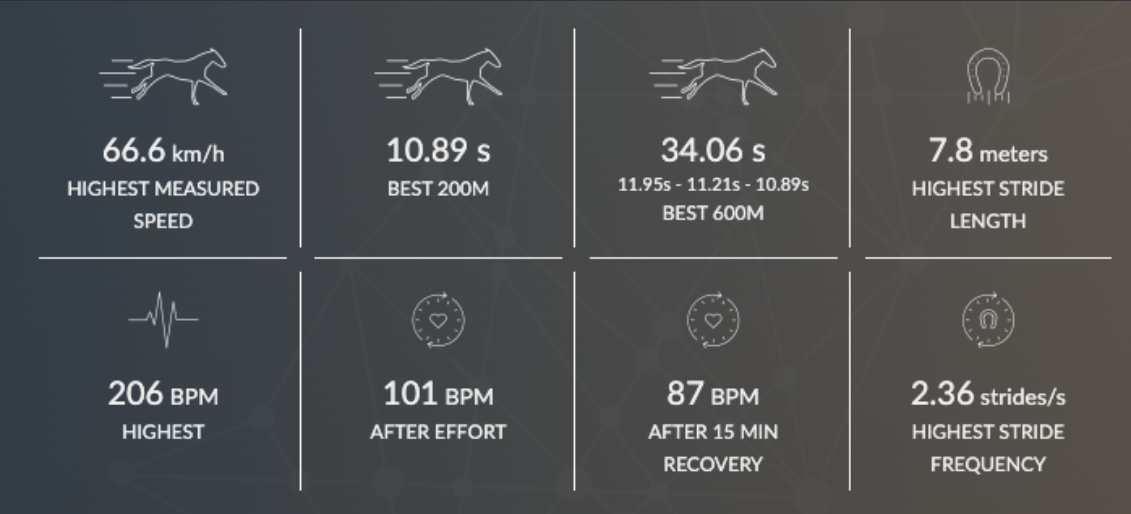 A good level of fitness : the horse has a maximum heart rate of 206 BPM which immediately drops to 101 BPM (very low for such an effort) when the speed drops, his recovery is excellent: he is ready to run. After 15mn, this is confirmed as his heart rate stabilises at 87 BPM. If you want to know more about this thematic, this article will give you some keys to analyse heart rate.
FUTURE PERFORMER – THE FUTURE CRACK OF 2 YEARS OLD
Future Performer can be used as a reference to compare your young horses and detect future performers. It is indeed a horse with real speed skills, an interesting locomotor profile, but still has work to do to improve his fitness. He is promising but not quite ready to run. Let's take a closer look at the data.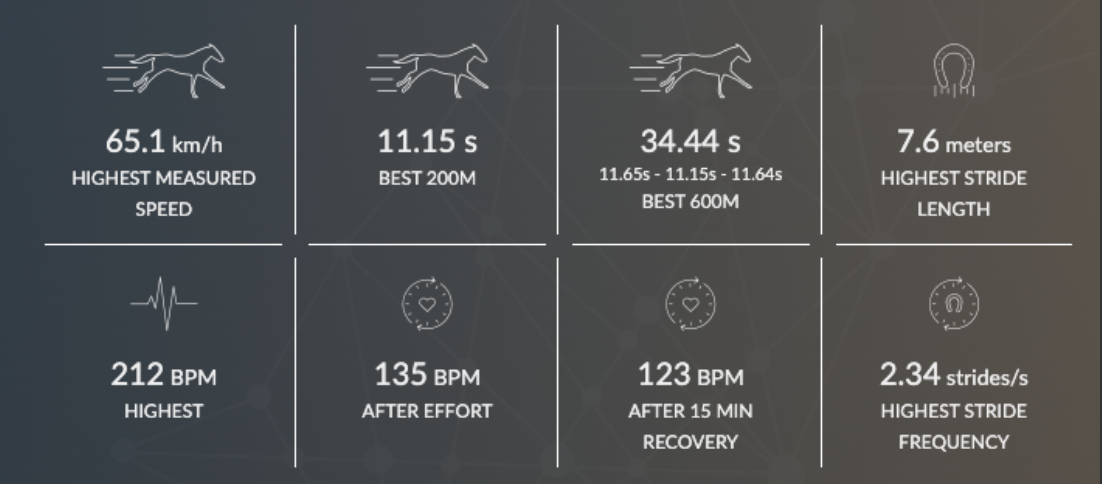 Its locomotor profile

: as the stride length and stride rhythm will improve with each training session, in view of what has been explained in the article on locomotor profiles, we can be confident about his performance.
The speed

: his best 200m are close to 11 seconds and his maximum speed is not far from that of G1W. We know today that the horse has shown good speed skills in training.
A cardio already decent : Compared to G1W, FP's recovery is not yet optimal. His heart rate does not fall at the same time as speed and after 15mn, the heart rate remains high. Since the recovery is being worked on, we can have good hopes if we check that this horse has no arrhythmia or other pathology, and that this average recovery is justified by a lack of training. Graphically, here's the difference right after an effort :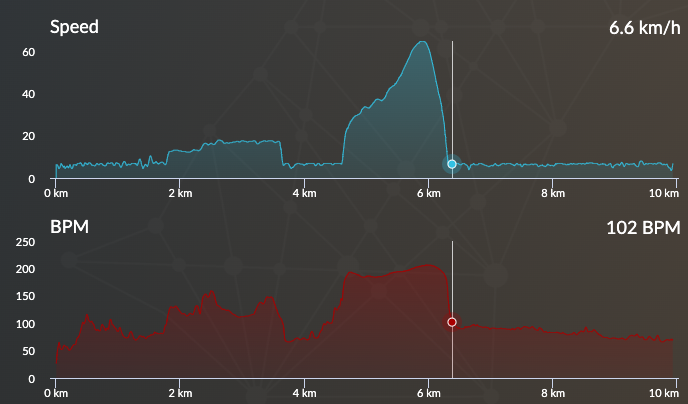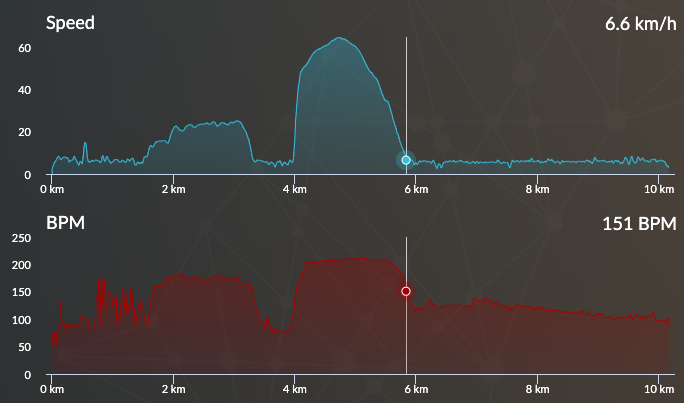 PAINFUL HORSE – DETECT RESPIRATORY PATHOLOGIES
Painful horse is a horse with a respiratory pathology. To detect them, you have to look at the speed and heart rate graphs.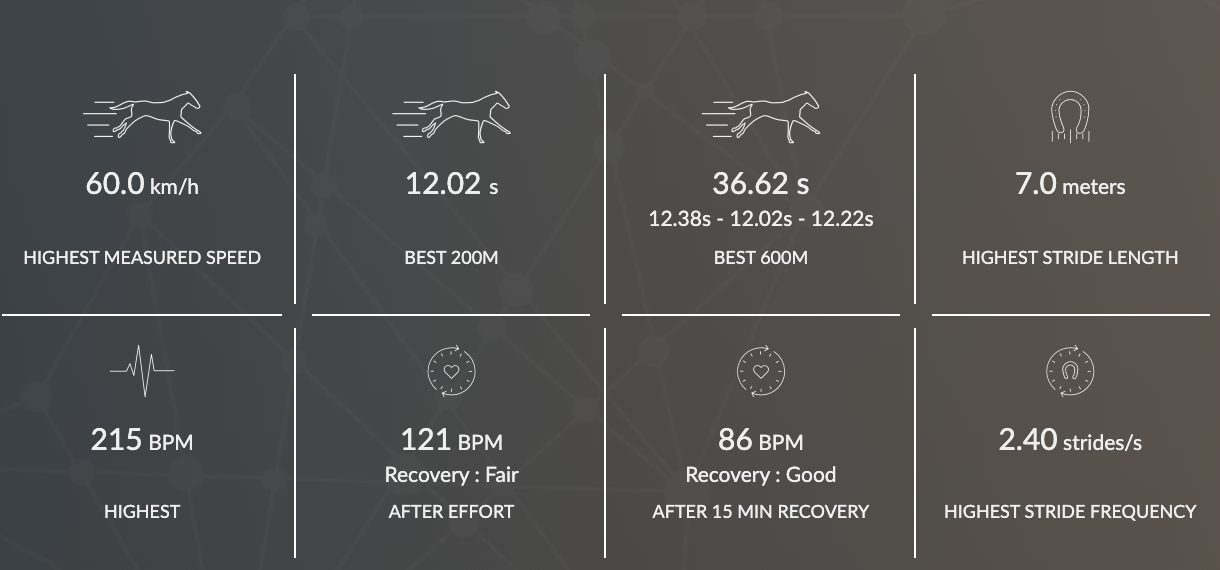 As soon as PH starts to gallop, his heart rate is already at its maximum: at 18 km/h he already reaches 180 BPM, and at 33 km/h his heart rate reaches its maximum and peaks at 204 BPM. Normally, the heart rate curve should increase at the same time as the speed curve. An unexplained increase in heart rate means that the horse is in pain.
Similarly, when the horse slows down at the end of training, his heart rate remains very high, which is a sign that an oxygen debt has been created during the effort. When the horse reaches its maximum heart rate, his heart cannot beat faster to bring oxygen to the muscles, it then contracts an oxygen debt, which is compensated at the end of the exercise by a heart rate that remains at its ceiling for the time it takes to catch up with this debt. If your horse has similar speed/heart rate curves, it is advisable to investigate the cause with your vet.
Feel free to create your own free account on equimetre.com to get familiar with the platform and the demo horses.